Growing A Garden Within A Garden With Containers
Space-Saving, Controlled growth, Portable, and Perfect for Specimen plantings and to highlight outdoor seating areas.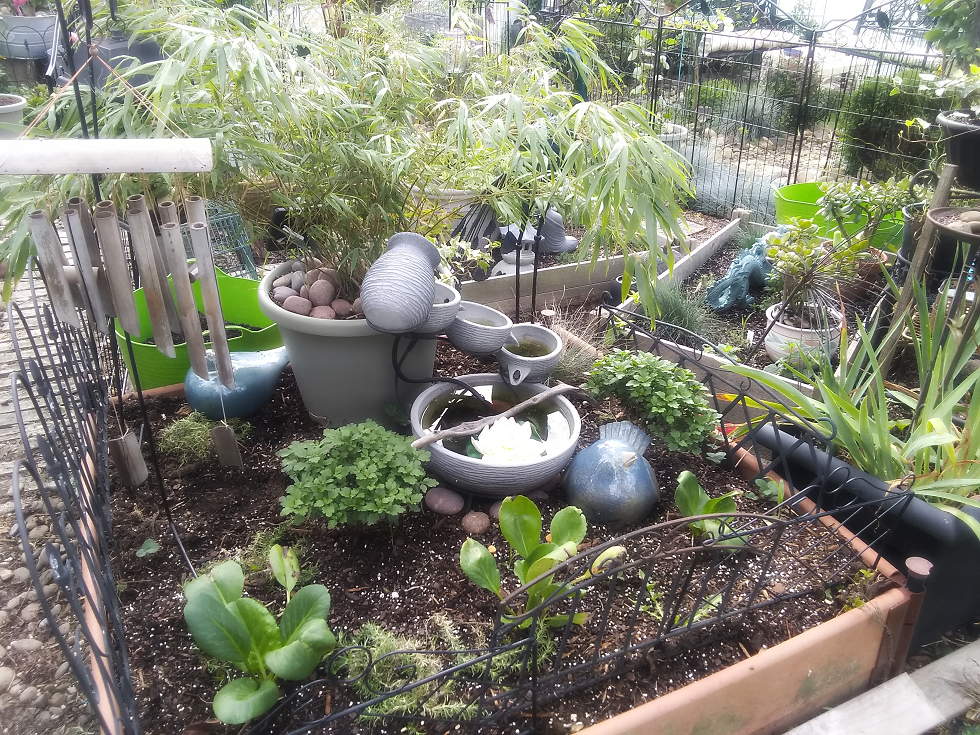 Bamboo, Iris and Jade Trees in Pots
A great way to show off your garden on decks, balconies, and in flower beds as a main focal point.
Growing above-ground cuts back on weeding, and creates a nature theme on patios and backyard settings.
These are some of my succulents, vines, shrubs and trees growing in containers.

This was sent to me, but no creator was credited. I thank the creator for making me smile.
I have lots of containers and planters in my landscapes, adding height and visual interest.
Easy to care for and moveable. Growth is also controlled. And less bending for me.
I include my above-ground and elevated raised beds as container gardens.
Strawberry patches in raised containers/beds in front yard to protect them from rabbits.


I have a few containers in the backyard, as well.
Rabbits are now confused and foiled.



Raised beds and bog garden
Elderberry Shrub in Zen Garden


Red Dragon Dwarf Weeping Japanese Maple
In a bed in front of the house



Dwarf Koto No Ito Japanese Maple


Chinese Wisteria - Tree Form

"Snow Fountain" Dwarf Weeping Cherry Tree
Every branch entirely covered with white flowers in early spring

Dwarf "Thundercloud" Plum Tree





I uppcycled the cracked top of a birdbath. I unscrewed it from it's base.
It sits on a rock edging, The bowl is large but shallow, and crack is
small enough to allow good absorption and enough drainage for sedum and blue fescue.
This perennial arrangement returns every spring.


Clematis vines in containers at ground level climb up the porch fence.

Cactus Bowl


Bunny Ear Cactus Bowl

Trailing Mezoo Red - A very pretty succulent for planting at the base of
container plantingss, in windowboxes, and in hanging baskets. Fast grower.

Potted Tree Wisteria and Salvia

Fern Pots

Peanut Cactus blooming in a shallow stone succulent container.

Dwarf Japanese Dappled Willow trees in Pots






Dwarf clumping bamboo